Palestine Realty is honored to welcome you to Palestine and the surrounding areas, the Crossroads of East Texas. Life is rich with possibilities in this dynamic and diverse region located within two hours of Dallas and Houston. Rich in history, culture, economic opportunities and scenic views, Palestine is a friendly town that you will be proud to call your new home.
Our agency offers boutique service built on integrity, knowledge, and professionalism. We specialize in residential real estate and farm & ranch land in and around Anderson County. Whether you are a prospective buyer, seller, or just interested in learning about the area, we value the opportunity to show you our community.
Kristy Wages receives Grassroots Advocate of the Year Award from Texas Realtors
Palestine Realtor receives statewide honor for local advocacy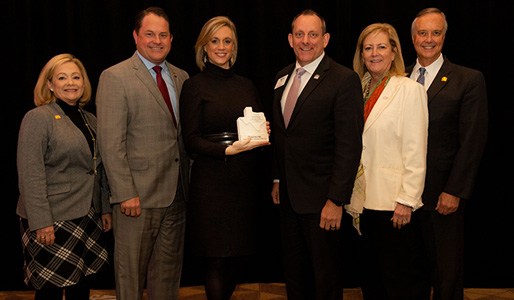 AUSTIN, Texas – Feb. 15, 2019 – Texas REALTORS® is proud to announce that Kristy Wages of Palestine Realty received the 2018 Texas Realtor Grassroots Advocate of the Year Award during Texas Realtors Winter Meeting on Feb. 10 in Austin. This prestigious honor is given to a Texas Realtor who has done exceptional work to encourage local engagement in the political process.
"When it comes to political advocacy, Texas Realtors talk about ourselves as a grassroots organization. But Kristy Wages stood out for her strong efforts to drive up voter turnout and encourage Palestine voters to make a difference in local elections," said Chris Rosprim, 2018 chairman of Texas Realtors Political Involvement Committee.
Wages played an integral role in the election of fellow Palestine Realtor Cody Harris, who now represents House District 8 in the Texas House of Representatives. She exemplifies the local connection Realtors have to their communities, going door-to-door to remind voters to cast their ballot on Election Day.
"My wife, Taylor, and I appreciate all that Kristy did to educate voters about our campaign. She exemplifies how Texas Realtors can be a grassroots force on behalf of our communities," said Harris.


Texas Real Estate Commission Consumer Notice
Information About Brokerage Services